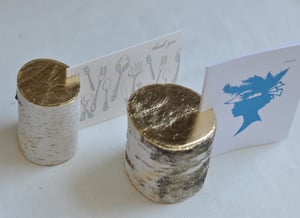 $

22.00 - On Sale
White birch from Maine has been turned into a gilded cardholder that's truly one of a kind. We love the combination of the shiny golden surface with the natural beauty of birch logs.
These cardholders are a petite version of the gilded cardholders in the collection — we have a mix of wide- and narrow-slot cardholders available. See descriptions of "gilded cardholder, wide slot" and "gilded cardholder, narrow slot" for further details.
These petite cardholders measure about 2-by-3 inches. (Note: in photos here you can see these petite 2-inch gilded cardholders next to 3-inch gilded cardholders to get a sense of scale.) Each cardholder is made of white birch branches, and we've sealed and gilded the two ends.
This listing is for ONE gilded petite cardholder. Choose between wide slot (can hold about 15 business cards) or narrow slot (can hold one photo).
Note: the card slot itself is not gilded — it reveals the lovely raw birch wood. We've kept the natural, gorgeous beauty of the birch intact, so the birch may have peeling bark. The cardholder will stay put with the natural nubs or bumps of the bark (unless if you put in a giant piece of paper!). It's easy to find the spot where it sits upright.
New York state residents will be charged New York state sales tax. See our shop policies for more details. Thanks!
*Cards shown in photograph by Hello!Lucky and Paper+Cup Design. Calendar page from polaroid calendar by Fieryeyed. Props shown in photographs do not come with cardholders.
Each cardholder is gilded by hand with love.